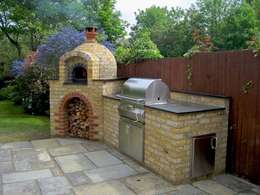 Outdoor ovens and barbecues for patios
We don't know about you, but the first sunny and slightly warmer day that we experience has us running to the shed to think about barbecues. But this year we don't want to simply roll out a tatty old grill, we want to build a proper cooking station!
Don't worry that you're going to need to call in architects and builders to create a stunning outdoor oven, as you can pare it back a bit and design a manageable DIY project with ease. Just in case the idea of a dedicated party spot in your garden appeals, we're going to show you a host of different styles to really fire up your imagination!
We like to think that if we build an outdoor oven the summer will come sooner, so let's get started!
This charming installation is perfect for gardens with a more traditional feel as it looks like a little outhouse, especially with the tiled roof.
There's everything you could possibly need, with multiple grills and even prep stations and utensil rails.
A cabana? With outdoor eating furniture and a super cool oven? Don't mind if we do!
Adding the blue tiles to the oven area has given it such a cool and tropical look. Eating here must feel like a holiday, every day.
This oven might be bigger than some kitchens but we love it. Talk about opening up a world of outdoor cooking potential!
The integral log stores are so handy too.
Small but perfectly formed, this portable outdoor oven can be easily set up wherever you want it so that corner on your patio which feels a little bare won't have to anymore.
If fancy finishes aren't for you, perhaps something a little simpler is tempting? This smooth granite and brick oven would look amazing outside a modernist home.
Chunky stone is hard to beat, but use it to create a beautiful outdoor oven and you have something really special! This looks so inviting and sociable, helping bring indoor aesthetics outside.
In a stunning garden you have no excuse not to take advantage of the space, so an outdoor oven mounted on a raised patio is a wonderful idea.
This modern gas grill will let you enjoy the view while putting in minimal effort!
When you have a pretty garden wall to use as a backdrop, we can't help but think that a red brick outdoor oven is the only sensible choice.
Outdoor ovens and barbecues for patios